Her Wardrobe is a Queensland owned fashion store providing fashion to a broad spectrum of consumers. We keep our boutique fresh by injecting new styles weekly. And we love our customers always putting their needs first.
Her wardrobe carries popular labels: Fria, silver wishes, willow and tree, new u collection.
Her Wardrobe is located in the main Street.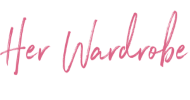 Trading Hours
Monday
9:00am - 5:30pm
Tuesday
9:00am - 5:30pm
Wednesday
9:00am - 5:30pm
Thursday
9:00am - 7:00pm
Friday
9:00am - 5:30pm
Saturday
9:00am - 5:00pm
Sunday
10:00am - 3:00pm
Public Holidays Closed
HER Wardrobe | Orion Springfield Central