OPSM, a leading provider of eye care and eyewear in Australia and New Zealand. Their dedicated stylists and optometrists use world class optical technology to provide you with a vision care solution that's right for you.
At OPSM Springfield, they will make sure you get the best, most up to date relevant information so that you can make an informed decision about your eyes, your look and your life.
With a range of world's leading brands to suit your needs from brands such as Ray-Ban, Oakley, DKNY, Vogue and Armani Exchange, come and explore store today.
OPSM is located on Main Street.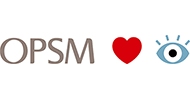 OPSM Trading Hours
Monday
9.00AM - 5.00PM
Tuesday
9.00AM - 5.00PM
Wednesday
9.00AM - 5.00PM
Thursday
9.00AM - 7.00PM
Friday
9.00AM - 5.00PM
Saturday
9.00AM - 4.00PM
Sunday
10.00am - 3.00pm