Coles is one of Australia's leading supermarkets, providing the highest quality fresh food and all your grocery needs.
Coles at Orion Springfield Central boasts one of the largest fresh produce departments of all Coles supermarkets in Australia, as well as an in-store bakery, open butcher counter, pizza bar, pop-up coffee cart, gourmet deli with a cheese shop and olive bar, Mix clothing and a general merchandise section.
Coles is located in the Coles Mall.

Please note as of Wednesday 18th March Coles will hold a dedicated Community Hour for the elderly and disadvantaged, during this time of unprecedented demand. Those who hold a government-issued Pensioner Concession Card, Commonwealth Seniors Health Card, Companion Card and Health Care Card will have exclusive access from 7am to 8am. All other shoppers will be granted after 8am.

Online orders and click & collect have also been suspended.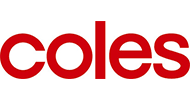 Coles Trading Hours
Monday
7.00AM - 9.00PM
Tuesday
7.00AM - 9.00PM
Wednesday
7.00AM - 9.00PM
Thursday
7.00AM - 9.00PM
Friday
7.00AM - 9.00PM
Saturday
7.00AM - 9.00PM
Sunday
9.00AM - 6.00PM