Donut King have been serving the now World Famous DK Cinnamon Donut for over 25 years, and Donut King is much, much more than simply the World's most delicious donuts.
At Donut King you will also find the blend of coffee rated by 30 million customers a year as their favourite, as well as a range of cold drinks including Smoothies, Milk Shakes, Thick Shakes, Frozen Coke, Frozen Raspberry, Icy Caffeine Hit, DK Caffe Frappe, Quake Shakes, 100% fat free Fruit Freeze and more.
Then there is DK Soft Serve Ice Cream and the range of Gourmet Hot Dogs – the ideal savoury snack or meal when you are hungry.
Donut King is located in the Woolworths Mall.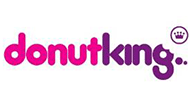 Donut King Trading Hours
Monday
8:30am - 5:30pm
Tuesday
8:30am - 5:30pm
Wednesday
8:30am - 5:30pm
Thursday
8:30am - 9:00pm
Friday
8:30am - 5:30pm
Saturday
8:30am - 5:00pm
Sunday
8:30am - 5:00pm
Public Holidays 10.00am to 4.00pm
Donut King | Orion Springfield Central