Merlo Coffee is premium fresh espresso. Their philosophy comes from combining the best ingredients to make the best blends. They start with exceptional beans, having selected some of the world's highest quality beans for over 20 years.
Merlo Coffee roast their beans to perfection following the same recipe that made them famous since they began. Merlo Coffee ensure they use the best machines to enhance their precious beans and most importantly ensure they have the best people.
Merlo is located in the Woolworths Mall.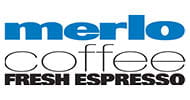 Merlo Trading Hours
Monday
7.00AM - 5.30PM
Tuesday
7.00AM - 5.30PM
Wednesday
7.00AM - 5.30PM
Thursday
7.00AM - 9.00PM
Friday
7.00AM - 5.30PM
Saturday
7.30AM - 5.00PM
Sunday
8.30AM - 5.00PM