At Two Butchers we provide the highest standard of Farm Fresh, Grass Fed, Antibiotic Free, and Hormone Free Meat. We also specialise in Wagyu, Dry Aged Beef, Grain Assist and Grain Fed Beef.
Working directly with our local farmers and selected wholesalers, we provide you with 100% premium quality meat.
Whilst we never lose sight of the fact that our success is built on our role as the local family butcher, offering the highest quality meat products and service, we have also expanded and diversified our product range to include pies, Gourmet Products, Thursday Night Cooked Dinners and a wide range of delicious hand made sausages. In fact we are just as well known for our pies, Gourmet products and sausage as for our high quality meat. Come and visit us - located opposite Coles.
Two Butchers is located next to Coles.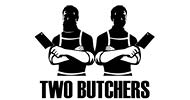 Two Butchers Trading Hours
Monday
8:00am - 6:00pm
Tuesday
8:00am - 6:00pm
Wednesday
8:00am - 6:00pm
Thursday
8:00am - 9:00pm
Friday
8:00am - 6:00pm
Saturday
8:00am - 5:30pm
Sunday
9:00am - 5:30pm