Jewellery & Accessories
Springfield Jewellers
Looking for a trusted, quality jeweller? Look no further than Springfield Jewellers.
Springfield Jewellers has developed a solid reputation as a leading jeweller based on honesty and trust. They are a family owned business, dedicated to providing the best service possible for their customers and reaching above and beyond industry practises.
Choose from their large range of 9ct gold and 18ct gold diamond and gem set jewellery or settle for some stunning silver pieces. They also stock a large range of watches including Citizen, FCUK, Adina and Sekonda brands.
Need to get your broken jewellery repaired? No problem! Springfield Jewellers is equipped with an onsite jeweller to repair your jewels in house. They also specialise in custom made jewellery and remodelling of your old jewellery.
Springfield Jewellers is located in the Target Mall.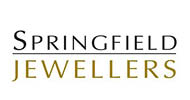 Springfield Jewellers Trading Hours
Monday
9.00am - 5.30pm
Tuesday
9.00am - 5.30pm
Wednesday
9.00am - 5.30pm
Thursday
9.00am - 7.00pm
Friday
9.00am - 5.30pm
Saturday
9.00am - 5.00pm
Sunday
10.00am - 4.00pm