Health & Fitness
Mater Pathology
Mater Pathology is the leading not-for-profit pathology provider in Queensland, reinvesting revenue to improve health care.
The friendly collection staff hold nationally recognised qualifications in specimen collection and are experienced in the collection of adult, geriatric, maternity, paediatric and neonatal tests.
Mater Pathology also offers a home collection and aged care service. This service accepts all referrals, can be fully bulk billed and is available for all residents of Ipswich, Greater Brisbane and Northern Gold Coast.
Mater Pathology is located on Level 1.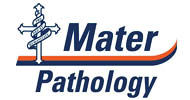 Mater Pathology Trading Hours
Monday
7:00AM - 12:20PM 1:00PM - 5:00PM
Tuesday
7:00AM - 12:20PM 1:00PM - 5:00PM
Wednesday
7:00AM - 12:20PM 1:00PM - 5:00PM
Thursday
7:00AM - 12:20PM 1:00PM - 5:00PM
Friday
7:00AM - 12:20PM 1:00PM - 5:00PM
Saturday
7:00AM - 11:00AM
Sunday
CLOSED
Mater Pathology | Orion Springfield Central