Dusk is Australia's premium retailer of scented candles, unscented candles, candle holders, home decor and gifts.
Dusk selects only the finest materials to ensure that every candle is of an unmatched quality. You will find that every candle is infused with the passion of the master-craftsman who made it. From its fine flame, to the perfect packaging, to the alluring scent: every dusk candle burns that little bit brighter.
Dusk is located in Target Mall.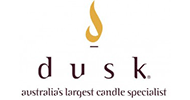 Dusk Trading Hours
Monday
9:00AM - 5:30PM
Tuesday
9:00AM - 5:30PM
Wednesday
9:00AM - 5:30PM
Thursday
9:00AM - 9:00PM
Friday
9:00AM - 5:30PM
Saturday
9:00AM - 5:00PM
Sunday
10:00AM - 4:00PM