Fresh Food
The Source Bulk Foods
The Source is a specialised bulk food retailer selling over 400 bulk whole foods including nuts, seeds, gains, herbs, spices, cereals, flour, rice, paleo products, superfoods, honey, oils, confectionary, yummy snacks, cleaning products, personal care products and so much more!
Good old-fashioned grocery shopping the modern way, that's what's new at The Source Bulk Foods!
The Source Bulk Foods is located in the Coles Mall.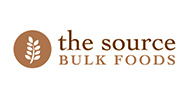 The Source Bulk Foods Trading Hours
Monday
9:00am - 5:30pm
Tuesday
9:00am - 5:30pm
Wednesday
9:00am - 5:30pm
Thursday
9:00am - 7:00pm
Friday
9:00am - 5:30pm
Saturday
9:00am - 5:00pm
Sunday
10:00am - 4:00pm
The Source Bulk Foods | Orion Springfield Central