Throughout the years, Subway has earned a well-respected reputation for offering customers a better alternative to traditional greasy and fatty fast food.
Subway offers fresh, nutritious, made to order sandwiches that are prepared just the way you like it, right before your eyes – a fast food alternative that is low in fat. Try it for yourself!
Subway is located in the Food Court.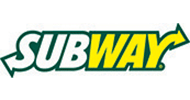 Subway Trading Hours
Monday
9:00am - 4:00pm
Tuesday
9:00am - 4:00pm
Wednesday
9:00am - 4:00pm
Thursday
9:00am - 8:00pm
Friday
9:00am - 4:00pm
Saturday
9:00am - 4:00pm
Sunday
9:00am - 4:00pm
Public Holidays 10.00am to 4.00pm
Subway | Orion Springfield Central