Health & Fitness
Peter McMahon's Swim Factory
Peter McMahons Swim Factory is a purpose built learn-to-swim pool located at Orion Springfield Central.

With a 20 meter indoor pool swimming lessons and other aquatic activities operate all year round.

Infants and children have the environment to learn new skills like balance, co-ordination and independence while parents and family members can watch from nearby in the seating area located on the pool deck itself.

Male, female, unisex, disabled changing facilities with showers and baby change tables are available to ensure you and your child have all the amenities required for a comfortable and enjoyable visit. There is also a great range of swim gear available at the swim shop.

Peter McMahon's Swim Factory is located in the Big W Mall Carpark.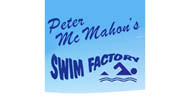 Peter McMahons Swim Factory Trading Hours
MONDAY
8:00am - 7:00pm
TUESDAY
8:00am - 7:00pm
WEDNESDAY
8:00am - 7:00pm
THURSDAY
8:00am - 7:00pm
FRIDAY
8:00am - 7:00pm
Saturday
7:00am - 12:00pm
Sunday
7:30am - 12:00pm