Health & Fitness
Nutrition Warehouse
Nutrition Warehouse provides customers with access to the most sought after Sports, Bodybuilding, and General Health Supplements available on the market. The store stocks an arrangement of Australian and American brands.

Staff are trained individuals that specialise in sports and general health nutrition, whose first priority is to customise supplement and nutritional advice for each customer. Our goal is to help you reach yours, because our passion, is your passion.

Located on Main Street.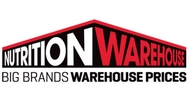 Nutrition Warehouse Trading Hours
Monday
9:00AM - 5:30PM
Tuesday
9:00AM - 5:30PM
Wednesday
9:00AM - 5:30PM
Thursday
9:00AM - 9:00PM
Friday
9:00AM - 5:30PM
Saturday
9:00AM - 5:00PM
Sunday
10:00AM - 4:00PM
Nutrition Warehouse | Orion Springfield Central