Health & Fitness
Mullein Pharmacy
Mullein Pharmacy is the 14th store under Your Chemist Outlet Ltd Pty. It is on a mission to provide customers with professional pharmacy services and great healthcare products. Also, Mullein Pharmacy offers destination shopping with a wide range of products including top brands skincare, prestige fragrances, premium cosmetics essentials and best-selling household items at great prices.


Mullein Pharmacy offer the following services for your convenience:
Home Medicines Reviews (HMR)
Prescription Management Service
National Diabetes Service Scheme Access Point
Blood Pressure Monitoring Service
Webster-pak Service
Mullein Pharmacy is located in the Coles Mall.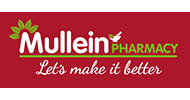 Mullein Pharmacy Trading Hours
Monday
8.00am to 6.30pm
Tuesday
8.00am to 6.30pm
Wednesday
8.00am to 6.30pm
Thursday
8.00am to 9.00pm
Friday
8.00am to 6.30pm
Saturday
8.00am to 5.00pm
Sunday
9.00am to 4.00pm
Public Holidays 8:00am - 4:00pm