Health & Fitness
Mullein Pharmacy
At Mullein Pharmacy Springfield Orion we aim to serve every customer with a personalised experience in store by providing a professional service to meet their needs.

Mullein Pharmacy offers a wide range of products including top vitamin and skincare brands prestige fragrances and cosmetic essentials.

Mullein Pharmacy Springfield Orion offer the following services for your convenience:
• FREE Blood Pressure Checks
• Scripts on file & Reminder Service
• Baby Weigh Service
• Vaccination Clinic
• NDSS Access Point
• Home Health Aid Equipment for Hire
• Medication Management & Dose Administration Aids (Webster & Sachet packing)
• MedsChecks & Diabetes MedsChecks
• Home Medicines Reviews
• Ear Piercing
• PLUS sign up to our Rewards Club for great offers – it's FREE to join
Mullein Pharmacy is 100% Australian owned and operated.

Mullein Pharmacy is located in the Coles Mall.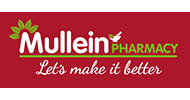 Mullein Pharmacy Trading Hours
Monday
8:00am to 6:30pm
Tuesday
8:00am to 6:30pm
Wednesday
8:00am to 6:30pm
Thursday
8:00am to 9:00pm
Friday
8:00am to 6:30pm
Saturday
8:00am to 5:00pm
Sunday
9:00am to 4:00pm
Public Holidays 9:00am - 4:00pm
Chemhouse Pharmacies | Orion Springfield Central