JB Hi-Fi offer the world's leading brands of Hi-Fi, Speakers, Televisions, DVD's, VCR's, Cameras, Car Sound, Home Theatre, Computers and Portable Audio. JB Hi-Fi also offers the largest range of video games, recorded music, DVD music and DVD movies with over 50,000 CDs and most major studio DVD releases, all at the cheapest prices! JB Hi-Fi has it all - best brands, huge range, cheapest prices, convenient locations, but most importantly genuine personal service from experienced specialist staff.
JB Hi-Fi is located on Town Walk.

From Tuesday 17th March, JB Hi-Fi will be opening 1 hour later to allow staff to properly sanitize the store before opening. Please refer to the correct updated time shown on this page.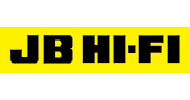 JB Hi-Fi Trading Hours
Monday
9.00am - 5.30pm
Tuesday
9.00am - 5.30pm
Wednesday
9.00am - 5.30pm
Thursday
9.00am - 9.00pm
Friday
9.00am - 5.30pm
Saturday
9.00am - 5.00pm
Sunday
10.00am - 5.00pm