Jewellery & Accessories
The Crystal and Wellness Warehouse
The Crystal and Wellness Warehouse is a Pop Up Shop packed with crystals, jewellery, natural and vegan skincare, Australian made gifts, organic chocolate, teas and magical potion.

We have hundreds of sparkly crystals to mesmerise you and make you feel happy. They come in all the colours of the rainbow.

Rachael our resident Reiki master offers a full range of new age services including Psychic readings, crystal healing and programming, plus aura cleansing!

Our focus this Christmas is to offer you a fantastic range of unique and 100% Australian made gifts, priced to suit any budget. Stuck for ideas for a vegan friend or relative you need to buy gifts for? Check out our vegan gift station.

To visit the store's Facebook page CLICK HERE

Located in the Target Mall.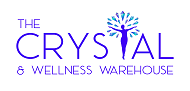 The Crystal and Wellness Warehouse Trading Hours
Monday - Wednesday
9:00am - 5:30pm
Thursday
9:00am - 9:00pm
Friday
9:00am - 5:30pm
Saturday
9:00am - 5:00pm
Sunday
10:00am - 3:00pm
Crystal and Wellness Warehouse