Cotton On is a global fashion and lifestyle brand that creates effortless, on-trend and affordable products to be lived in everyday.
Cotton On embrace diversity, empowering people of all backgrounds to express their personal style and make a positive impact on the world and those around them.
Cotton On is located on Town Walk.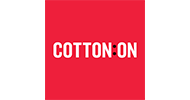 Cotton On Trading Hours
Monday
9:00am - 5:30pm
Tuesday
9:00am - 5:30pm
Wednesday
9:00am - 5:30pm
Thursday
9:00am - 9:00pm
Friday
9:00am - 5:30pm
Saturday
9:00am - 5:00pm
Sunday
10:00am - 4:00pm
Cotton On | Orion Springfield Central