Sanity is your entertainment specialist, with a massive range of movies, music, blu-ray, TV on DVD, merchandise and more!
At Sanity they put customers first. When you purchase a product from one of their stores and you are not satisfied with it, Sanity are happy to exchange or return the product.
Sanity have also got some amazing offers in store for selected DVD and Blu-Ray - choose any 4 for $50, and 2 CD's for $40.
Sanity is located in the Big W Mall.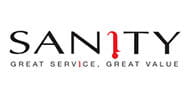 Centre Trading Hours
MONDAY - WEDNESDAY
9:00AM - 5:30PM
THURSDAY
9:00AM - 9:00PM
FRIDAY
9:00AM - 5:30PM
SATURDAY
9:00AM - 5:00PM
SUNDAY
10:00AM - 4:00PM